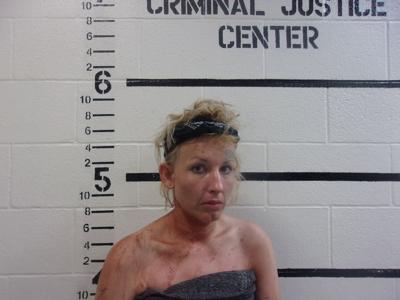 Haworth, a sane and lovely lady
Crystal Haworth, 30, was charged Thursday with first-degree murder for the death of 57-year-old Leonard Brokeshoulder, who investigators found Wednesday unresponsive with a cut to his neck "which nearly decapitated him," according to an affidavit prepared by MPD Capt. Shawn Delana. I would say that is pretty unresponsive.
Haworth's bond was set Thursday at $1 million.
McAlester Police Lt. Preston Rodgers told the News-Capital on Wednesday that investigators found Brokeshoulder unresponsive inside a residence near the intersection of G Street and Polk Avenue.
Rodgers said officers responded to the residence early Wednesday morning after Haworth appeared at the Pittsburg County Sheriff's Office "covered in blood."
Delana wrote that Haworth told PCSO that the blood on her was not hers and there was an injured man at a residence on the 600 block of West Polk Avenue.
"Excuse me officers, there is an injured man at West Polk Ave." I love the way they clean up these reports, I would love to know how she really said it.
Officers went to the residence and found Brokeshoulder unresponsive, "covered in blood," before medics from the McAlester Fire Department pronounced him dead, the affidavit states. A inordinate use of the word "unresponsive" in this article..
Investigators found Brokeshoulder had "numerous stab wounds" to the upper part of his body, the report states.
Delana wrote in his report Haworth agreed to speak with investigators and admitted to killing Brokeshoulder and stated "numerous times" she tried to cut off the man's head.
The woman said she was living with Brokeshoulder "for the past few months" and was engaged to him, with her plan to marry him and "kill him and take all of his property," the affidavit states.
Women. am I right?