After two weeks the summer of love ends. Trump didn't take the bait and multiple murders don't look good in election year.
Seattle's 'occupied' protest zone was dismantled Tuesday a day after the second deadly shooting at the camp when its own security shot dead a black teenager.
Demonstrators have occupied several blocks around the Seattle Police Department's East Precinct and a park for about two weeks. Police had abandoned the precinct following clashes with protesters calling for an end to police brutality.
But by Tuesday morning crews were working to pull down the barriers.
…
'It is abundantly clear to our detectives people had been in and out of the car after the shooting. We're not sure who shot at the car or why they shot at the car', police chief Best added.
'Detectives searched the Jeep for evidence, but it was clear the crime scene had been disturbed,' police said in a statement.
https://www.dailymail.co.uk/news/article-8475061/Seattle-war-zone-New-footage-shows-chaos-inside-CHOP-night-teen-driving-Jeep-shot-dead.html
tweets with video at the hot link
Deedee Sun @DeedeeKIRO7
Chief Best going over what police know about the latest shooting & murder at #CHOP.
Asking people to remove themselves from this area for the safety of the people.
https://twitter.com/DeedeeKIRO7/status/1278000172832710658
#BREAKING: Seattle Police just showed here at #CHOP with SDOT.
Multiple pieces of heavy machinery now moving barricades. And crews are working fast.
@KIRO7Seattle
https://twitter.com/DeedeeKIRO7/status/1278000448549478401
#UPDATE: At least a dozen officers here. I'm told to provide support/security for SDOT if protestors give trouble during barricade removal.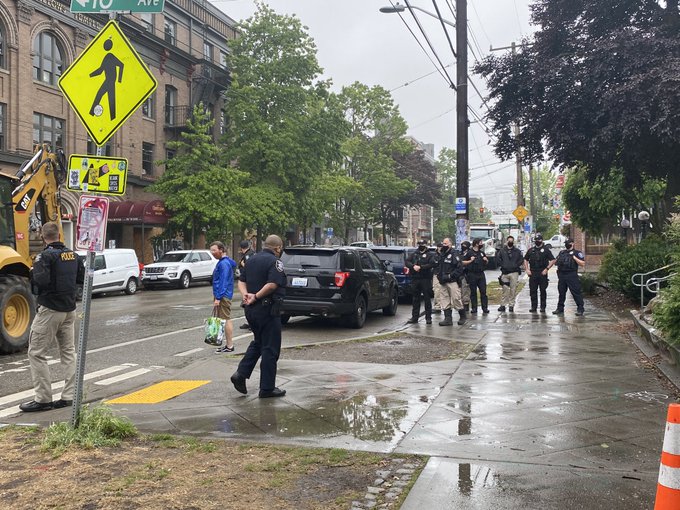 Protestors moving everything they can from the area to re-block off 10th and E. Pine. #CHOP
https://twitter.com/DeedeeKIRO7/status/1278010526325334016
#UPDATE: Seattle Public Utilities just uninstalled a handwashing station next to Cal Anderson park and are removing it.
I'm told it's part of the effort to try and get folks camped here to leave. More outreach workers coming to #CHOP later today.
https://twitter.com/DeedeeKIRO7/status/1278015624090796032